Meet Our Members
Bill Farkas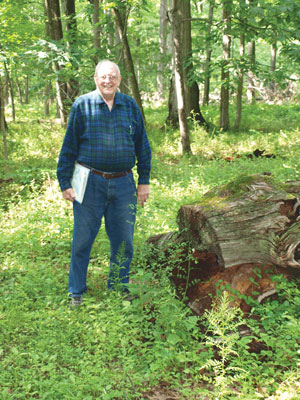 Leaving a Lasting Legacy of Conservation
He may have never lived on a farm himself, but events in Bill Farkas' life have convinced him of how important it is to protect farmland from development. The longtime American Farmland Trust supporter grew up around Pittsburgh, Pennsylvania, in an area that once had lots of farms but has since lost many of them to developers—despite the area not having gained much in population.
"When I go back to Pittsburgh now, much of the farmland has vanished," Farkas says from his present home in Bucks County, Pennsylvania. "It is very discouraging to see the pace at which farmland is disappearing under urban sprawl."
A retired industrial accountant who worked for U.S. Steel, Farkas spent part of his career based at a plant in Columbia County, New York, in a bucolic part of the Hudson Valley. There he became friends with a local dairy farmer, and saw firsthand how hard the farm life could be.
"Cows don't take a day off. I watched how hard he worked," Farkas says. He was dismayed years later when his friend's farm was broken up and sold, as the area became a magnet for new residents. "It's very sad," he says.
The area where he now lives in Bucks County has lost many of its once-beautiful, historic farms to development over the past 30 years, and land sells for astronomical sums. "You've got to save good ground where you've got it," he says. "Because once it's gone, it's gone. Land is a finite resource, and we've got to save what we can while we can."
To make his own lasting impact on conservation, Farkas decided to bequeath his Individual Retirement Account (IRA), which had benefited from profitable investments, to AFT and two other organizations that work to protect open space and farmland in Massachusetts. Even more generously, when he turned 701/2 and was required by law to take disbursements from the account, he gave AFT an outright gift of the money.
"You're allowed to take money out of your IRA tax-free if it goes directly to a charity," Farkas says. "So it's a good deal for me too."
If you decide to include AFT in your will, please use the following language in your documentation: American Farmland Trust (Tax ID #52-1190211), a nonprofit 501(c)(3) with its principal office located at 1150 Connecticut Avenue NW, Suite 600, Washington, DC 20036. Thank you!