Meet Our Members
Bill and Carol Palladini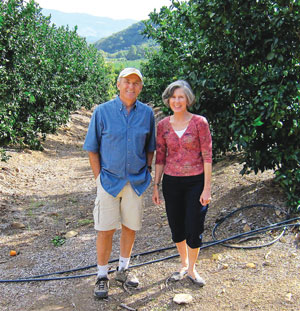 "Bella Collina," which means "beautiful hill" in Italian, is a fitting name for the orchard in Ojai, California, owned by American Farmland Trust supporters Bill and Carol Palladini. The avocado and tangerine orchard sits on a hill overlooking miles of family-owned farmland in Southern California's Ventura County. "We're on the edge of a place totally undeveloped," Carol Palladini says. "If you were to stand out there, you would swear you were in Europe."
When the Palladinis bought the orchard in 2009, they fulfilled their dream to own a farm and make improvements to the land. "We're trying to do some of the green things we've wanted to do. It's a new adventure," Palladini says. "We just finished putting solar panels along the length of a stable that will power irrigation to the orchard."
The couple markets their seedless "pixie" tangerines through the Ojai Pixie Growers Association, a cooperative of local growers. "The co-op's tangerines are advertised as "Ojai family-farm grown,' and it's the truth," Palladini says. Located in the frost-free Matilija Canyon, the pixies ripen early with some of the best flavor and are harvested in the spring.
Thanks to smart growth policies in Ventura County, the Palladinis feel confident that neighboring farmland will stay in farming. Still, they have been alarmed about other parts of California where fertile farmland—critical to the nation's food supply—has been paved over.
"We try to keep informed out of concern for future generations, and we noticed all the over-development. We've been very aware of the importance of land to produce healthy, fresh food and the need to enable farmers as the producers," she says. After coming across a piece of literature about American Farmland Trust, they realized that the organization's mission closely aligned with their own values about the importance of conserved farmland, local food and environmental sustainability.
"American Farmland Trust is absolutely the organization we wanted to support," Palladini says. "And the policy work that AFT has done is very important. We are counting on AFT to continue its vital work far into the future and have put a bequest in our will to help make that happen."
For more information about how to plan a charitable bequest and leave a lasting gift for America's precious farmland, please contact Susan Sink, Vice President of Development & External Relations at (202) 378-1206 or email ssink@farmland.org.