Meet Our Members
In Memory of Chuck and Mary Yeiser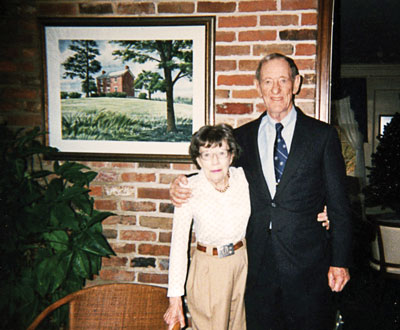 The Greatest Gift
Chuck and Mary Yeiser loved their farmland and made sure it would always be protected.
When the Yeiser family left a bequest to American Farmland Trust, they conserved their beloved farmland forever and contributed to the future of farming in America.
"The farm was one of the places they loved the most in their lives. It meant a great deal to them," says Hank Yeiser of his parents, Mary and Charles "Chuck" Yeiser. In 1992, the Cincinnati couple made a gracious bequest to AFT of their land in southwestern Ohio, where they loved to spend time in nature among the farm's fields, rolling hills and woodlands.
"They loved the farm and wanted to see it preserved. It is an absolutely magical place. It is very special," Hank says. The Yeisers weren't farmers themselves; Chuck spent his career first as a teacher and later as a headmaster at the Cincinnati Country Day School. But they loved trips on weekends out to the farm. Mary delighted in the farm's wildflowers, of which she'd identified 260 varieties. Chuck was an avid outdoorsman who fly-fished in the East Fork of Todd Creek, which ran through the farm. "My dad walked that river. He loved to hunt and fish," Hank says.
Back in the early '90s, the Yeisers talked to AFT about options for permanently protecting their land. They agreed to a plan where they would immediately donate the land to AFT while retaining lifetime use of their property. The donation gave them significant income and estate-tax deductions—along with the peace of mind of knowing the land would never be developed.
They knew they could trust AFT to ensure that the land would be protected in the long term for agricultural and conservation purposes. AFT determined to sell it to farmers subject to a conservation easement and use the proceeds from the sale to benefit farmland protection nationwide.
Mary died in 1997, and Chuck passed away at the age of 92 in 2013. The couple had their ashes comingled and spread in Mary's favorite wildflower garden that she planted along the lane to the farm. "She put a lot of work and a lot of love into the garden, and it's a great gift to all those who see it in late winter and early spring," Hank says.
AFT's senior policy and program advisor Bob Wagner oversaw the process of having their farmland protected with easements. The Yeisers' land was then sold to neighboring farmers. "We helped the Yeisers see their hopes and dreams for their property come true," Bob says. "Their gift also helped AFT in our work around the country. They really saw the value of AFT as a nationwide organization advancing the goal of farmland protection."
"I think Bob Wagner did an absolutely tremendous job of making sure that everyone with a stake in the farm had their needs met as well as he possibly could," Hank says. Would his parents be pleased with the outcome? "I think they would be," he adds. "There isn't a housing development on the farm—that was the primary thing they didn't want to ever see happen."
For more information about leaving a gift of land or other assets in your estate plan or will, please contact Susan Sink, AFT's Vice President of Development and External Relations, at (202) 378-1206 or ssink@farmland.org.